Taking Have you ever gone through a crazy talk with your friends that their truck bed covers are completely waterproof? Never trust them. Before you give them a chance to do a prank with you, go through the below content about truck bed covers.
A precise and concise description of truck bed covers is:
Truck bed covers are not 100% waterproof but water-resistant. Bed covers may seem waterproof but there are some pores through which water creeps into the truck, no matter how many times the manufacturer guarantees you about its brand tag, quality, material, and safety.
Water-resistant and water-proof both are different anomalies that need to be explained while talking about truck bed cover's properties.
Difference between water-proof and water-resistant
Waterproof means won't let water perforate into the surface and make it wet. While on the other hand, water-resistant means won't block water completely but partially .
The truck bed cover is a shield composed of thin material just like sunshades of cars.
Are Truck Bed Covers Waterproof?
Another terminology being used in place of truck bed cover is Tonneau cover. It is used to cover unused space in trucks that carry out cargo.
No, It's not entirely waterproof but somehow. Water seeps into the covers from different places you can't even imagine. Apparently, you may not see a small gap even but from both of its sides water creeps heavily. Yes, they do provide water resistance which is a necessity most of the time.
Truck Bed's cover for Rain
Tonneau covers are made up of vinyl and cloth. And finally comes in contrasting types, shapes, and mechanisms. Don't think that tonneau cover would be a miracle in stormy weather for you.
Hard-folding and hard roll-up tonneau water covers support high water resistance as compare to the soft folding and soft roll-up. These two covers are not preferred for traveling in the rain.
How to make the truck bed's cover waterproof?
No, it's not possible to make truck bed covers waterproof but could increase the water-resistance capacity. Different synthetic materials can help a lot.
For instance, a one-coat painted tonneau cover is best to travel with. Similarly, a thin piece of fiberglass or ABS plastic can heighten its resistivity.
Some truck bed's covers are installed with rubbers or seals at both sides that won't allow water to penetrate but somehow it seeps.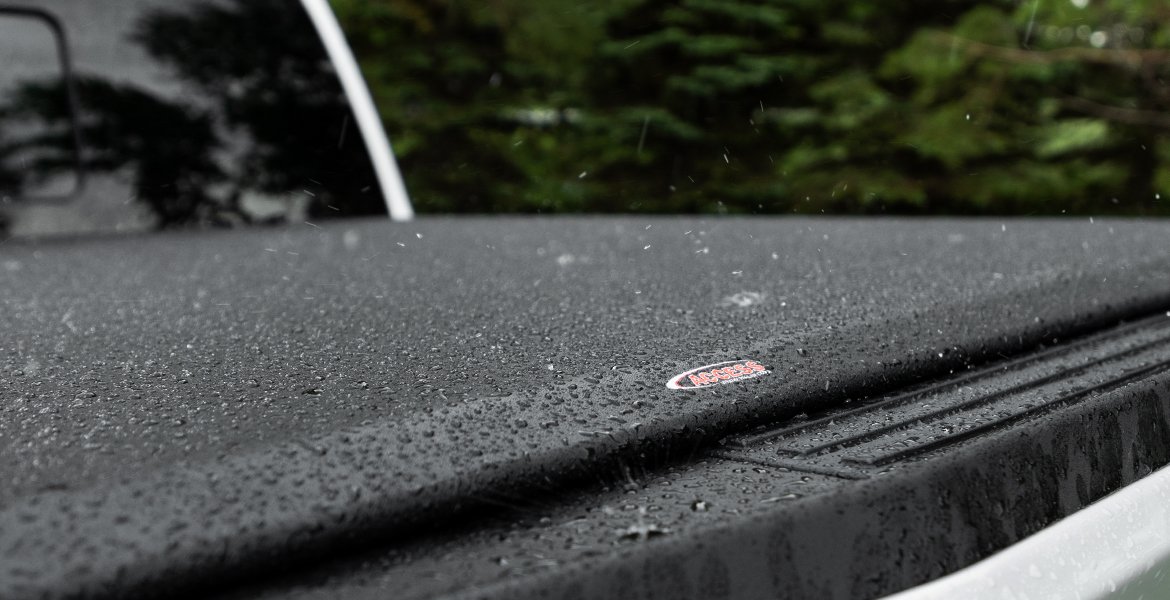 So, let's have a small tour of the best possible solutions that will escalate the impedance to keep truck beds dehydrate.
1. Extra Seals
Pro Tip Select seal of your truck's size not larger or smaller. The larger size would make matters worst and you'll end up in the same situation where you lied before buying.
2. Water Pipe Insulation

Water pipe insulation is easy & simple to install, low-budget, and best-loved as other processes are. The material of these pipes usually compose of rubber and comes in highly thin and slit form, filling gaps quickly and long-lasting.
Installation isn't rocket science, you all need to fit them where water leakage happens.
Mostly gaps around the corners and sides are filled to keep the bed out of water.
3. Bed Seal Kits
Once you buy seal bed kits means you've found a permanent solution to the leakage. One solution can solve many problems related to truck bed cover.
Having bed seal kits from a store means you've brought everything of your need ranging from side gaps, corner fillings, and foam blocks. In any case, if water enters into the shield you get rid of it via bed seal kits.
The problem is the bed seal kits method is so expensive so they shouldn't be implemented until and unless you feel leakage is expanding and need to stop.
People usually go for bed seal kits when they want to save their valuables kept inside the bed.
How to get a water-proof truck bed cover?
If anyone wants a complete waterproof truck bed then it is only possible via a customized metal plate. You only need a large metal plate and weld it according to your truck's bed and tailgate shut.
In this way, you can say that yes your truck bed cover is 100% water-proof.
Customized metal plate truck bed cover means an unbendable, rigorous, and unremitting sheet that is challenging to hold and save for later use.
So, think twice or thrice first, figure out your needs, the way you travel, and weather conditions before buying a truck's bed cover.
How to check Tonneau Cover is water-resistant?
For checking the truck's bed resistivity couple of tests are required to ensure that water won't drip into the bed, keeping things safe and safe.
Method #1
On a hot sunny day, go inside the cover and close the tail-gate completely. There will be darkness inside and no light coming in. then, it's pretty simple to see from where light beams are comings and of what intensity.
If you see any holes or gaps you need to fill them out otherwise you're good to go!
Method #2
Another test to check the truck's bed resistivity is the water test. This is as easy as boiling an egg for your breakfast. Isolate yourself inside the cover and ask someone else to throw water in abundance using a water hose pretending like it's raining outside.
If any water leakage happens, you'll know from where it should be repaired.
Pro Tip – Remember one thing while pouring water from upward don't let water flow with high pressure because the seals and foam wouldn't stand against high pressure. With high pressure, water will be eventually enforced to get into the truck.
Taking Care of your Truck Bed Cover
Things without care eventually distort quickly. Let's have some tips or methods by which you can care for your truck's bed cover. The care methods are described according to the weather situation and its manufacturing material.
1. Care for Painted Tonneau Covers
Caring methods for painted tonneau cover are as same as the black cover. You just need mild soap and water to wash it.
Somehow, you can go with dish wash soap, it'll not harm it if used properly with care.
2. Black Tonneau Cover
Black Tonneau covers are usually washed with mild soap and water. You can even take the truck to the car wash station for a pressurized and high wash, automatic or manual either, both ways work well.
Make sure that the cover is properly locked during an automatic process because an unlocked or unlatched cover may cause hinders during the wash.
Stay on the safe side and check its cover from each side.
Avoid bleaches, and other harmful detergents that are labeled with a tag that "not safe for use on plastic". Yeah, in case of thick and sticky stains, manufacturers of tonneau cover suggest washing it with mild degreaser mixed with water, slightly scrub the affected area with your palms, or a soft brush.
FAQ
Q1. Do I really need a water resistance truck bed's cover?
No, you won't need to have it until and unless your valuables inside kept melt or deteriorate. It all depends on your need, weather condition, and budget.
Q2. Does the truck bed's cover improve the truck's fuel economy?
According to experts, tonneau cover modifies the truck's fuel efficiency. It will cut down on aerodynamic drag and can ameliorate the gas fuel consumption rate by 10%.
Conclusion
Until now, I tried to remain fairly confident and fair throughout my above article. So, we concluded that tonneau covers are not completely water-proof but water-resistant and keep your belongings safe just like under a roof.
Yes, some ways to enhance resistivity are described above. Don't forget to test their impedance through the above-mentioned methods!